Winterhorses offers you an outstanding selection of TOP QUALITY DRESSAGE HORSES at all levels Including FEI horses. Highly young talented DRESSAGEHORSES in various price ranges. Judy de Winter is well known in finding people their DREAMHORSE and their PERFECT MATCH!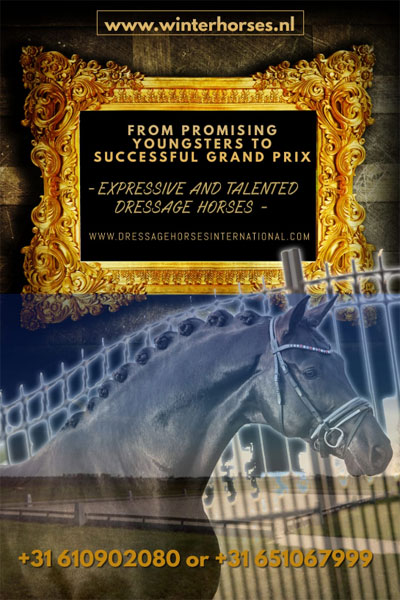 Dressage horses sale of warmbloods. Warmblood horses Dutch and German, mares gelding and stallions. De Winter Horses is a world wide Equestrian dressage trade stable.
We have many satisfied customers all over the world and many of our horses are doing well under there new owners and have great show records.

KEYWORDS of our HORSES: Light, well trained easy going, high quality, gorgeous, uncomplicated, safe and easy to ride.

Winterhorses offers you our services:
** We pick you up from and bring you back to the airport
** We make hotel reservations
** We show you horses in a well organized schedule
** We offer you a relaxing and wonderful time
** When you buy a horse from Winterhorses we take care of: Vetting to American vetting standards as well as a five star vetting, High quality X rays and English vet report
** WE make Shipping arrangements.
Most of our dressage horses are DUTCH DRESSAGE HORSES and the KWPN WARMBLOODS are doing very well at the highest levels.Like the GRIBALDI horses but also the FERRO and JAZZ horses and many more DUTCH WARMBLOOD DRESSAGE HORSES have become famous because of their achievements.Ofcourse we can also provide GERMAN WARMBLOOD HORSES as we are close to germany and have always GERMAN WARMBLOODS in our stables. Our DRESSAGE HORSES FOR SALE come in all ages, levels and quality.
We can offer you aprooved STALLIONS from our STABLES and some of our aprooved STALLIONS are at higher level and even at FEI level. Judy de Winter DRESSAGE STABLES is the place to be!!! In EUROPE we are well known as well as all over the world of DRESSAGE.
WE also can offer you great DRESSAGE MARES at FEI level and all levels but also DUTCH WARMBLOOD MARES and GERMAN WARMBLOOD MARES to breed with and to have your own FOAL.
And ofcourse our GELDINGS, DUTCH WARMBLOOD GELDINGS as well as GERMAN WARMBLOOD GELDINGS. Young talented DRESSAGE GELDINGS or trained and at higher level DRESSAGE GELDINGS we have available and can offer you with proud.
Our DRESSAGE STABLE is well known WORLDWIDE. In the EQUISTRIAN WORLD we can offer you some great LINKS to find in our website at LINKS
Our website is frequently updated with new DRESSAGE HORSES. DUTCH WARMBLOODS and GERMAN WARMBLOODS. We buy and sell Horses all over the world and some even have SWEDISH and DANISH breeding.
WE WELCOME YOU AT OUR DRESSAGESTABLES IN HOLLAND and whenever you are looking for a great horse do not hesitate to contact us: and let 20 years of experience work for you to find the perfect match.

ANYTIME IS THE RIGHT TIME to visit our stables and to finally meet your DREAMHORSE.